Deerfield Beach's
Metal Shingle Roof - #1 Roofing Contractors
When you own a property, there are many things and aspects to worry about. For example, your roofing system. Your roof is one of the most important parts of the property that can guarantee the stability, performance, and longevity of the entire structure. Therefore, whenever you are thinking about a remodeling, renovating project, or maybe buying another property, you should pay attention to this area before anything else. 
And we are not telling you this to determine if the roof looks stunning or has an amazing design. The most important aspects you have to pay attention to include durability, longevity, and cost. Think about those questions: 
How long it will last? 10, 20, or maybe 60 years? Can it resist the climate in the city properly? What about some natural disasters or situations? Will it hold? 
How much is the maintenance? How often does it have to be performed? 
Are repairs too common? 
How about the other functional characteristics such as resistance to fire? 
When you ask this to yourself or anyone who is helping you with your roofing system of the new or old property, you will have a good idea of if it is what you need or not. Now, do you have any design or style in mind?
The answer to this question also plays an important part in deciding what to install or if the roofing system in the property you have or are acquiring is what you want. After all, the aesthetic element might not be the most important one, but it still should influence your decision. If you have a preference for shingles instead of tiles or panels, you can reduce the list of roofing systems that can meet your preferences. 
Cedar shingles and even slate are among the options that most residential property owners decide to install or desire in their properties. However, those are quite expensive and if we have to name one by one from the cheapest to the most expensive ones, they are definitely at the top. But what about other options like concrete or asphalt?
Among commercial buildings, asphalt is quite used due to its price, but the durability of this material is questionable. It will not last for more than 20 years, and we are being optimistic about it. As a result, you will end up dealing with many repairs and maintenances over the years, and always think about when it is time to replace it. So, keeping all this in mind, would you mind taking a recommendation?
Metal shingles are a good option if you are interested in this design of roof only but you still need an affordable and durable option for it. Metal roofs overall can last for over 60 years with the proper installation, maintenance, and a few repairs over time. Shingles made of it are not the exception, and thanks to the four different materials you can choose from you get the chance to fit the shingles according to the design you want, the climate in the city, and many other aspects. Just make sure that if you are going for it, you are very clear about the variations in colors and designs available.
In our company, Florida Metal Roofers of Deerfield Beach, we can help you to know everything about metal shingle roofs, the variations, and even handle the hard work of installing and maintaining them. We are professionals in the metal roofing industry, and we are happy to know you are considering to go for this system in particular. After all, there is a lot to love about it.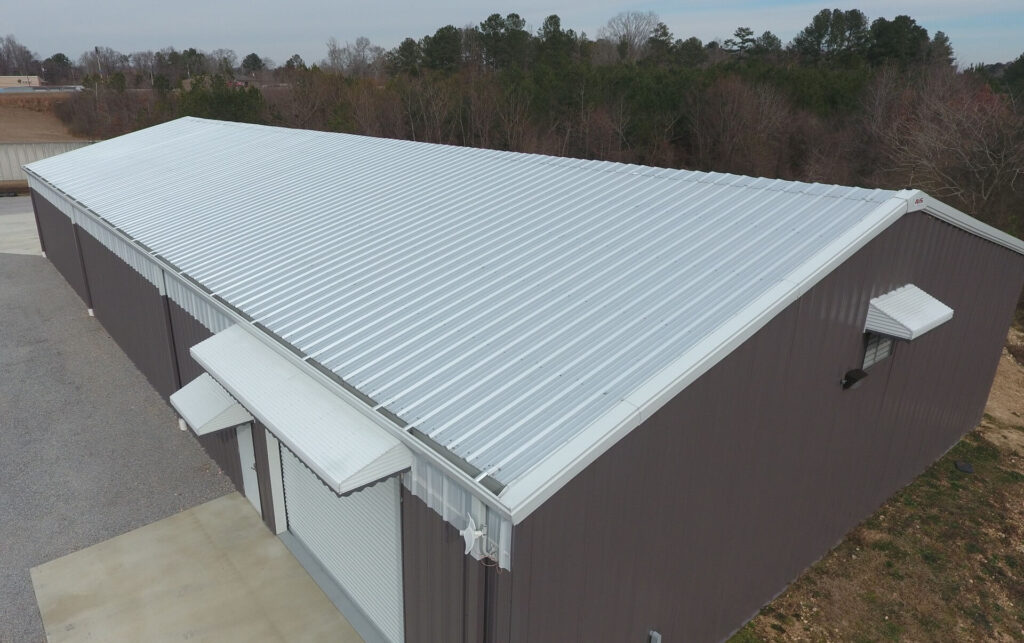 It is one of the most used metal roofs in Florida and the entire country
Metal roofs are more popular than you think, and the reason behind this lies in all the benefits that come with them:
Durability.
Energy efficiency.
Longevity.
Designs, profiles, and colors.
Easy installation.
Environmentally friendly.
Low-cost.
They can be installed over existing roofs.
The list goes on and all of them apply to metal shingles as well. When you decide to go for this roofing system, you will have to make the right decisions about the paint, coating, material, and many other additions to guarantee you are able to obtain the specific design. Keep in mind that metal shingles can easily imitate any other material. However, why would you imitate them when you can get creative thanks to all the options available?
Everything will depend on what you want whatsoever, so there is no need to feel pushed in making the decisions. We will be here to ensure you are going in the right direction that will meet your preferences and objectives with the roofing system. And this includes giving you a few recommendations that will come with a well-informed answer to the question you will most likely ask: "why this and not the other?".
Our company has been working with many clients and property owners over the years. Metal shingles are requested for residential owners mostly due to how popular shingles are for residential buildings. However, you can also install them in some commercial ones or in any structure you want. We are telling you this because you must know there are no limits for metal roofs, and this includes the roofing system we have been discussing during all this time. 
Now, did you already make your decision to install it? That's great! We will be right here waiting to know about you, your property, and the specific service you will request. Keep in mind that although we were discussing installation all this time, we still can help you with other services related to the roof.  Like repairs, maintenance, re-roofing, retrofitting, and more. 
We are a metal roofing company after all, which means we cover any problem, issue, project, or idea you have in your hands and mind.  Just make sure to contact us as soon as possible to start the project right away and guarantee you will be able to enjoy it in only a few days.
Time to Replace Your Roof? We Can Help
Considering roofing replacement? When it comes to roofing projects, many homeowners rely on professionals to get the job done. At Florida Metal Roofers of Deerfield Beach, our specialists stick to all the industry standards when installing metal roofing on both residential and commercial properties. Therefore, you can be sure of getting a sturdy roof on top of your house. As a result, you can get the best services from our company in the following fields;
What Locations do we Serve?
---
Florida Metal Roofers of Deerfield Beach is a name you can trust and rely on. Our metal roofing services were limited in Deerfield Beach, FL when we started. But with time our company has expanded and is now serving over ten locations within Florida.
It shows how reliable we are. Here are some places within Florida, where you can access our world-class metal roofing services: –